REVIEWS
We would like to thank all of our students and now friends who have been at Amigos del Sol. Here are some of the reviews from our students (2019-2022).
---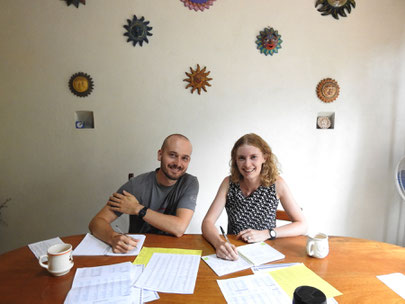 ---
JANUARY 2019 - DECEMBER 2022

We were so happy having wonderful students from:
Australia, Germany, Norway, Japan, Canada,  Rwanda, Greece, Switzerland, New Zealand,  England,  Netherlands,  France, Ireland, USA, Sweden, Israel, Russia, Philippines, , Italy, Austria, Belgium, China, South Africa, and Finland. 
---
My sister and I spent two weeks learning Spanish with Amigos del Sol and we highly recommend it. We learned so much during this time! In our 3 hour classes, we had the  opportunity to talk a lot, which was exactly what we needed. The classes are vivid and playful and learning the language (even the grammar part) feels easy and not as hard as you may remember learning a language in school. Plus the teachers are really supportive, nice and fun. We´d love to come back and study Spanish with Amigos del Sol! Thanks a lot!
Rahel and Lea -24 and 28 years old - Switzerland - (December 2022)
---
We thoroughly enjoyed our Spanish classes with Rogelio and Esteban during our stay in Oaxaca in November and December 2022. We felt like we learned a lot in just three weeks, and particularly appreciated the explanations of grammar and presentation of different verb conjugations and tenses. Talking each day about our lives and activities helped us quickly pick up a lot of vocabulary. Being beginners in learning Spanish, we appreciated their patience and encouragement. And we also enjoyed getting to know Rogelio and Esteban. They are great people in addition to being good teachers. Thank you so much.
Brad and Sheri -Forest Scientist - USA - (November-December 2022)
---
I really enjoyed my lessons at Instituto Amigos del Sol. I appreciated the one on one classes that allowed for flexibility in the class content and adjustments were quickly made in response to feedback. I liked the personalized focus, as this allowed me to integrate my prior knowledge with areas in which I specifically needed improvement. I also loved the handouts, it was helpful to be able to review verb conjugations and have the most common irregular verbs all in one place.

Genevieve LaMair-Orosco - USA - (November 2022)
---
Rogelio is an amazing teacher, I went from knowing no Spanish to being able to understand and form sentences in 1 week. He made everything seem very simple and explained everything so clearly. Thank you so much Rogelio!
Ashley - 29 years old - Finance - United Kingdom (October 2022)
---
We booked 7 days of lessons (3 hrs/day) at the start of our trip ,( 7 months in Mexico, Central and South America). Having very little Spanish beforehand, I was amazed how much Rogelio was able to squeeze into such a short timeframe! His lessons were fun, engaging ad really well-paced. ¡Gracias por todo!
Jimmy - 32 years old - Engineer - United Kingdom (October 2022)
---
I was 3 weeks at Amigos del sol and had a great time.  I had 3 hours of Spanish lessons every day and lived with a family.  The teachers are very nice, funny, helpful and I learned a lot. The family was great and very friendly and the food was amazing. It is a very nice atmosphere and the whole team gave me tips to have great experiences in Oaxaca. I can fully recommend Amigos del Sol as a great, and flexible Spanish school! Thanks a lot to the whole team!
Magdalena Jozic- 32 years old - Engineer - Switzerland
---
My wife and I studied Spanish at Amigos del Sol in May 2019. We had 10 private classes spread across 3 weeks to fit in with our other activities in Oaxaca. Rogelio was very responsive to our initial enquiries and was enthusiastic and welcoming to us every day at school.
Our main teacher  was friendly and professional (and more importantly, patient with us). The classes were interesting and pitched at the right level for our current competencies. We also had some classes with Esteban and he was likewise very friendly and knowledgeable.
The staff communicated well with us and with each other and everything ran very smoothly.
The school itself is clean, well-maintained and comfortable.
We would definitely recommend Amigos del Sol to other potential students.
Bruce and Lisa - Australia
---
An excellent course in a lovely environment. The teachers are very professional and I enjoyed meeting both the teachers and the other students. My Spanish improved rapidly and I throroughly recommend this school. Muchas gracias Rogelio!
Clare Burgener - 38 years old - Pilot - UK
---
I was very happy with the school and  the teachers, everyone is very professional and helpful. Thank you!
Ramona - 24 years old - Nurse - Austria
---
I had a wonderful time at Amigos del Sol. My teacher was very attentive and supportive. I looked forward to going to school everyday. My host family was absolutely lovely and I very much felt at home.
Sarah Wildi- 22 years old - Switzerland
---
I planned a week vacation in Oaxaca and wanted to learn some Spanish while I was there. I was working around some other tours and classes and Rogelio was great at communicating with me about what would be possible. I ended up with 3 days of Spanish classes with my amazing teacher, Sandra. I learned so much and was so encouraged by being able to tell her stories from my childhood (practicing past tense) and talking with her (in Spanish!) about the culture in Oaxaca and recommendations for things to do. Rogelio was also so kind to help me arrange transportation to the airport. Next time I am in Oaxaca, I will definitely be spending more time with mis amigos at Amigos del Sol! Thank you! 
Larae Baker - 35 years old - Marketing - USA
---
I really enjoyed my time at Amigos del Sol! Rogelio was very helpful in making all of the arrangements. The host family I stayed with was lovely and close to the school. The teachers were warm and accomodating. Everyone was flexible and made my time in Oaxaca excellent. I hope to return!
Carol Reimer- 34 years old - Social Worker - Canada
---
I was very happy with the school. Our teacher  taught us a lot in only two weeks. Everybody is very lovely and helpful. Now we are proud to say: Sí hablo más español. Thank you Amigos del Sol!
Laurenz - 24 years old - Engineer - Austria
---
I will recommend this school to everyone I know. It is well-run and the teachers are wonderful. Classes are three students or less, so we had lots of attention from the teachers. Wonderful!
Susan Harman - 70 years old - Retired - Canada